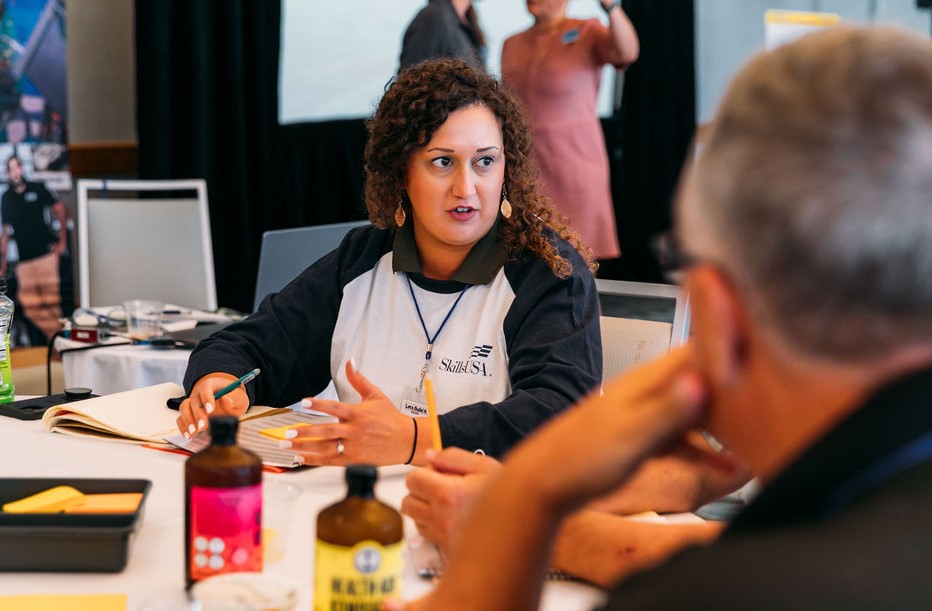 Jess Bowlin leads the construction program at Auburn High School in Auburn, AL. After starting her career in industry, Jess received a call in 2017 asking her to establish a construction program at Auburn High School. She accepted the offer because of her deep-rooted passion for learning and love of the trades, and she's been teaching and honing her craft ever since. In our Q&A, Jess shares her back-to-school process, how she keeps students engaged, and one of her favorite pastimes: learning!
What was something you learned this summer to improve your teaching craft?
This summer I traveled to Los Angeles to attend Let's Build It, which is an annual gathering of prizewinning teachers hosted by Harbor Freight Tools for Schools. I was lucky to have the opportunity to visit fellow prizewinning teacher Brent Tuttle and see his summer skilled trades program in action at La Mirada High School. I was impressed by the "train the trainers" concept used at the camp. Before the summer program starts, Brent uses an intensive boot-camp style crash course to teach his high school students how to mentor middle school students during the summer. He teaches the high school mentors the technical aspects related to each project, as well as how to be effective teachers to the middle-school participants. The high school students earn competitive wages while conducting the summer program. The concept is pure genius.
Do you have a favorite strategy to get students engaged at the start of the year?
I am a strong advocate of team building. I employ several activities at the beginning of each year, including a scavenger hunt. Throughout this exercise students work in competing teams to accomplish various tasks. Activities include a mixture of curriculum-related tasks and random team building tasks. They may even need to create a video of their team performing a synchronized dance or bilingual ensemble. It's a fun challenge that offers a change of pace from their typical beginning-of-the-year to-do's, by getting them on their feet, laughing and meeting their peers.
Which project do you find students look forward to the most each year and why?
My students are especially motivated when building things that they have conceptualized themselves. This could be something as small as a table game or wildlife feeder, to something as large as a "pumpkin chuckin' trebuchet" – a type of catapult used in medieval times. My students are in the process of planning a fall festival event to bring families throughout the community together and enjoy some fun launching pumpkins with the student-built trebuchet. Regardless of scope, I've found that when students have the freedom to highlight their creativity, they become personally invested, intrinsically motivated, and learn how to critically think through processes more thoroughly.
What advice would you give education leaders to recruit more young women to teach the trades?
I think it is imperative that educational leaders intentionally focus on raising awareness of skilled trades teaching positions and directly connect with female professionals within the industry.
This is a tough challenge and will take not only intentional commitment from education leaders, but also industry leaders, trades professionals, and society in general. When school systems are looking to fill a vacancy, they will often reach out to local industry to ask about prospective candidates, qualifications, and relevant industry certifications. These are all good questions and a step in the right direction, but an additional detail to be considered is: to whom are education leaders directing these questions? Chances are, they are speaking with men due to the sheer fact that most managers within the construction industry are male. While information gained through these conversations is valuable, I would challenge education leaders to also seek out females within the industry.
What methods do you use to keep your own learning fun in your career?
I gravitate towards and am constantly learning from more experienced CTE and academic teachers to see what practices they use that would improve my own teaching. Like this summer, I had the opportunity to participate in Troy Reichert's Skilled Trades Camp in Sunrise, WY. This camp is open to high school students across the nation and focuses on the restoration of a historically rich mining town. I participated alongside three other prize-winning teachers who are far more skilled than myself, both technically and as teachers.  This was an absolute blast and a trip that provided professional growth with many laughs along the way. I truly enjoy the opportunities I'm afforded to collaborate, observe, and fellowship with other skilled trades teachers – this is the absolute, most valuable gift of the Harbor Freight Tools for Schools Prize for Teaching Excellence.