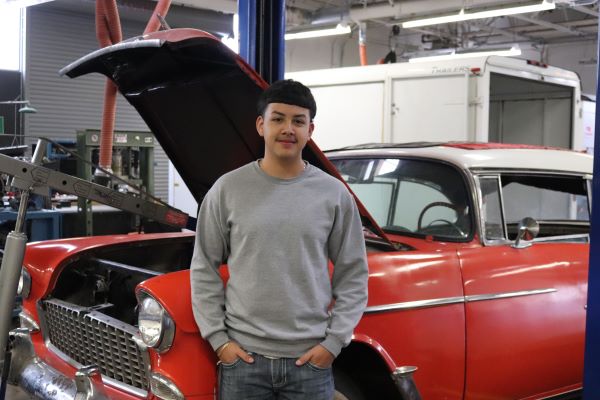 Alejandro De Luna is a 12th grader at John Jay High School in San Antonio, TX. Alejandro's automotive tech teacher, John Gunderson, was a winner of 2021 Harbor Freight Tools for Schools Prize for Teaching Excellence. With rigorous training and experiences in and out of the classroom, Alejandro is eager to help people and build a career in the automotive industry.
What made you first interested in taking an automotive tech class?
My girlfriend's dad got me interested in automotive. He owns a shop and offered me a summer position. I have continued to stay with him throughout my high school career and I have learned everything from cleaning the shop, to changing fluids, working as a porter, and now helping to rebuild transmissions.
How have your skilled trades classes changed your high school experience and changed you?
Taking automotive classes in high school has helped me decide what I want to do. These classes have made my experience fun, and it is something that I look forward to every day.
Please share with us how you use your talents outside of school?
A lot of my family members come to me with their cars now. I may not be an ASE (Automotive Service Excellence) Master Tech yet, but I consider myself knowledgeable and do what I can to get them the information that they need.
At my job, I use my experience helping customers with ALLDATA (automotive repair software) to look up vehicle information and identify parts. I can also scan vehicles and test electrical systems and do minor installs on batteries, wiper blades and light bulbs.
I get satisfaction out of utilizing what I have learned about cars to help other people.
What are you thinking about doing after you graduate from high school?
I am attending St. Philip's College to further my studies in Automotive and I want to continue with obtaining all my ASE certifications. After I graduate, I would like to gain more knowledge at a shop and eventually own one of my own.
What advice would you share with elected officials and school leaders about how to make high school education more exciting and meaningful?
Allow students to find things they like to do and turn it into a career. I was lucky enough to find what I wanted to do as a career.
Classes like this need to continue and maybe even expand more. There are so many courses that we are required to take that could potentially be utilized in electives we would like to make a career out of giving us a stronger edge in a competitive workforce.