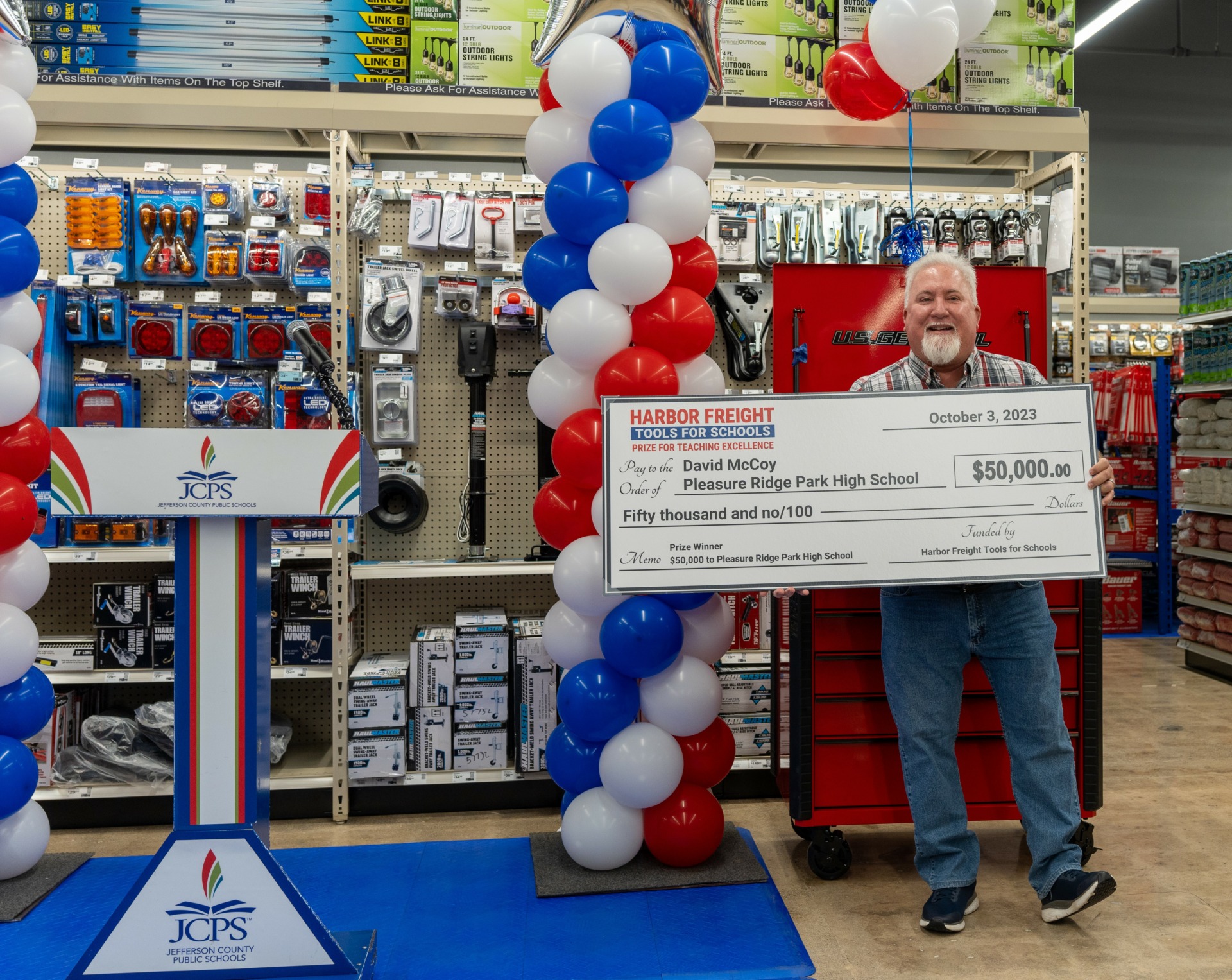 On October 3, we surprised 25 U.S. public high school skilled trades teachers in 17 states with the news that they had been named winners of the Harbor Freight Tools for Schools Prize for Teaching Excellence®. The 25 teachers and their programs were awarded a total of $1.5 million in cash prizes.
The full list of winners is here.
From New York to Alaska, schools surprised their prizewinning teacher with the news at prize celebrations. This brief video provides a recap of some of our favorite moments.
This prizewinner slideshow features photos of all 25 winners.
Favorite TV News Clips
Louisiana – Jodie Melancon
Avoyelles teacher wins national prize for teaching excellence, KALB, Oct 3, 2023
"This is going to allow me to add electricity and small engines up to my program and that I'm very excited for," said Melancon. Melancon said there is no place she would rather be than Avoyelles High. "We are a small rural parish, but we have heart. My students are just as important as anywhere in the parish, in the state, in the nation. And they are just as deserving."
Texas – John Alvarez
John Alvarez is the first plumbing teacher to win.
Local plumbing teacher wins $50,000 teaching excellence award, News 4 San Antonio, Oct 3, 2023
Texas – Keith Baker
Skilled Trades instructor at Texas School for the Deaf wins nationwide competition, CBS Austin, Oct 3, 2023
Baker is hoping to use the attention the school is getting to help his students launch their careers. "Yeah, it's an opportunity to expose them to different companies and hoping that they'll hire deaf individuals because they're capable of doing it."
Michigan – David Barresi
NOTE: David Barresi has a new workshop, but it was largely empty. Now he can buy new equipment. Barresi is also a vocal advocate for skilled trades education.
Frankfort teacher receives $50,000 for teaching excellence, helps funding for schools skilled trades program, 9&10 News, Newsbreak, Oct 3, 2023
"Oh, it's really great. We added on to the school and I got a new finished room. However, it's just the room. So now we can utilize this money to buy the finishing equipment and spray guns and whatever we need. That's going to be really great," says Barresi.
Minnesota – Joe Gabardi
NOTE: Joe Gabardi is the first prizewinner from Minnesota
$50,000 surprise for Nashwauk-Keewatin shops teacher Joe Gabardi, WDIO, Oct 3, 2023
Joe plans to use $12,000 of the prize money so the students can convert a Pontiac Fiero into an electric car. The story features an interview with Joe's Dad, Joe Sr., who was the previous automotive teacher at the school.
About the Harbor Freight Tools for Schools Prize for Teaching Excellence®
The prize, now in its seventh year, was created to recognize excellent U.S. Public high school skilled trades teachers, a group of educators who are frequently overlooked and underappreciated. Since 2017, the program has awarded more than $7 million to more than 130 teachers and their schools' programs. The mission of Harbor Freight Tools for Schools® is to increase understanding, support and investment in skilled trades education in U.S. public high schools.
This year, there were winners from 17 states, including: Alabama, Alaska, Arizona, Colorado, Iowa, Kansas, Kentucky, Louisiana, Michigan, Minnesota, Missouri, New York, North Dakota, Ohio, Pennsylvania, Texas and Utah.
"There is a growing shortage of skilled trades professionals in the United States" said Danny Corwin, executive director of Harbor Freight Tools for Schools. "These incredible teachers are educating the next generation of skilled tradespeople through inventive, hands-on programs. We are grateful for the work they do every day in classrooms across the country."
The Harbor Freight Tools for Schools Prize for Teaching Excellence was started in 2017 by Eric Smidt, owner and founder of Harbor Freight Tools.
"We are thrilled to announce our newest group of 25 prizewinning teachers," Smidt said. "They'll join the more than 100 teachers across America who are now part of a tight network of outstanding teachers who are working together to lift up excellent skilled trades education. We hope this recognition and support will serve as a catalyst for greater investment in this critical sector."
This year there were more than 1,000 applications for the prize, a 31 percent increase from 2022. The application process included three rounds of judging, each by an independent panel of experts from education, industry, nonprofits, and philanthropy.
The 25 winners and their programs received a total of $1.5 million in cash prizes as follows:
Five Grand Prize Winners
Amount: $100,000 each
($70,000 for their school's skilled trades program and $30,000 for the teacher)
Twenty Prize Winners
Amount: $50,000 each
($35,000 for their school's skilled trades program and $15,000 for the teacher)
In some cases, due to school, district or state policy, the schools' skilled trades programs received the entire prize winnings.
About Harbor Freight Tools for Schools®
Harbor Freight Tools for Schools is a program of The Smidt Foundation, established by Harbor Freight Tools owner and founder Eric Smidt, to advance excellent skilled trades education in U.S. public high schools. With a deep respect for the dignity of these fields and for the intelligence and creativity of people who work with their hands, Harbor Freight Tools for Schools aims to drive a greater understanding of and investment in skilled trades education, believing that access to quality skilled trades education gives high school students pathways to graduation, opportunity, good jobs and a workforce our country needs. Harbor Freight Tools is a major supporter of the Harbor Freight Tools for Schools program. For more information, visit: HFTforschools.org